NOT ONLY CAN A POOL INCREASE YOUR HOME'S VALUE, IT CAN OFFER YEARS OF ENJOYMENT AND MUCH NEEDED RELAXATION TO YOUR FAMILY. MAKE SURE YOU UNDERSTAND ALL OF YOUR DESIGN AND MATERIAL OPTIONS.
The lowcountry is the perfect place to enjoy outdoor living and what better way to embrace nature than sitting by your pool on a nice summer evening? In a society fixated on outdoor living products, social entertaining and relaxation, most homeowners agree that having a pool is an added plus to any home.
Finding the right design and implementing it with perfection is best done with the help of a qualified professional. But you can begin the process, by doing a little research and familiarizing yourself with pool materials, options, designs and your budget. Many of today's homeowners are opting for small sized pools with big design features like waterfalls, sun decks and shapes that follow the lines of the house, so they appear to look natural in the landscape.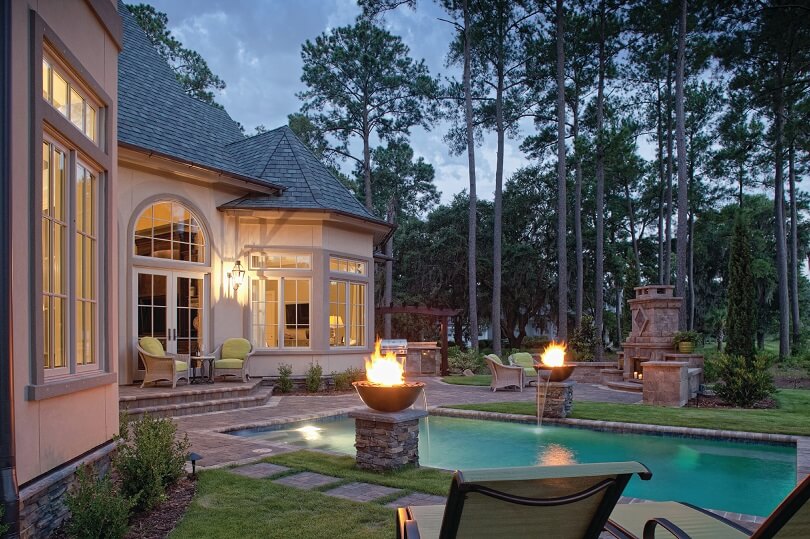 There are generally three basic kinds of inground swimming pools: concrete, fiberglass, and vinyl-lined. Choosing the type that is best for your home depends on the style of your house, the proposed size and shape of the pool, how it will be used, and the landscape it will be configured into.
If a specific effect or design is desired, concrete pools are the best choice. A concrete, or gunite, pool can be formed into just about any shape, size and style. From negative-edges, beach entries, and lap pools to tropical lagoons and contemporary masterpieces, concrete's compliant nature makes it the best material for one-of-a-kind pools. Ideal for any climate, most concrete pools can be completed in about six to twelve weeks. Concrete pools range in price from $35,000 to $50,000, but size and customization can drive the price much higher.
Fiberglass pools are one-piece shells created from a mold. Although not customizable like concrete, they do come in a variety of models, including vanishing edges, and have options like sundecks and in-pool benches. Because the shell must be delivered in one piece, fiberglass pools are restricted to 16' for shipping purposes. The smooth surface of fiberglass pools is a great defense against algae and other contaminants, decreasing the amount of chemicals needed to keep the pool clean. Fiberglass pool installation can generally take place within a week. and the cost can range from $25,000 to $40,000, but can be more depending on which accessories are added.
When vinyl-lined inground pools were first introduced to consumers, there was very little flexibility in both look and design. Over the years, advancements in the use of this vinyl material have made it easier to configure all types of pool shapes and styles.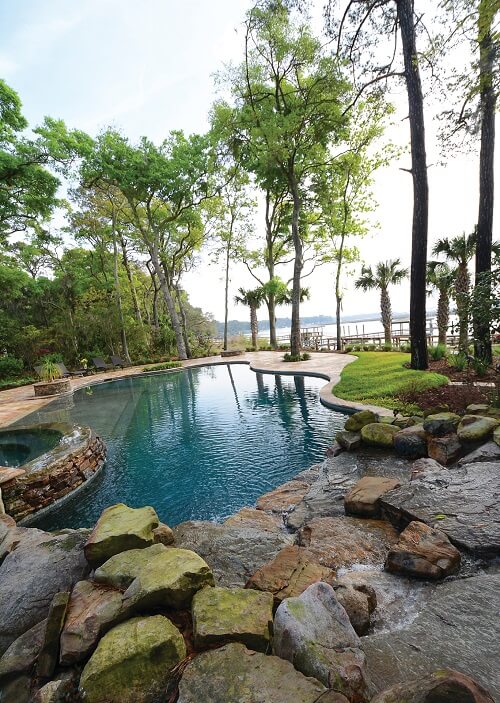 A vinyl-lined pool usually consists of steel or polymer walls lined with a 20- to 30-millimeter thick vinyl liner on a bed of sand or concrete. The smooth liner helps keep algae at bay, but over time sun and harsh pool chemicals can degrade the liners, causing a need for replacement. Installing a vinyl-lined pool takes just a few weeks and can be installed for a base price of around $30,000.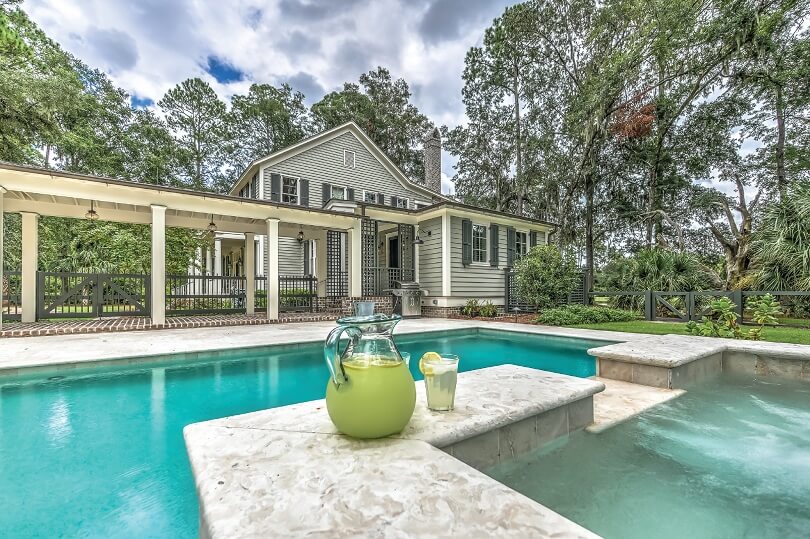 Pool Finishes
Traditionally, gunite pools have been made with plaster, but new technology has given homeowners a variety of additional options that offer distinctive looks and endless custom options. These new finishes cost more than plaster, but their longevity can outweigh price concerns.
Pebble Tec. This material is made of natural, polished pebbles for a sandy beach appearance and a nonslip surface. Eighteen color options and a long-lasting, resilient finish top its list of pros.
Pebble Sheen. This product uses the same technology as Pebble Tec, but smaller pebbles for a slicker finish. It can also include small seashell pieces to add sparkle and glitter.
BeadCrete. This pool surfacing is made of solid glass beads locked carefully into a polymer-modified cement creating a three-dimensional effect to the finish.
Glass Tile. It sounds expensive because it is, but, if maintained properly, it can last almost indefinitely. The sky is the limit with design possibilities. You can even incorporate glow in the dark glass tiles (Korel) for a nighttime iridescent feel and to highlight steps for safety.