TAKE YOUR KITCHEN TO NEW LEVELS OF FUNCTION AND DESIGN ONE COMPONENT AT A TIME.
Any craftsman will tell you that creating a masterpiece is highly dependent on having a well-defined workspace with appropriate lighting and the proper tools at hand. Creating the perfect kitchen is no different. As a home's central gathering spot for families to cook, eat, socialize, work, and entertain in, the kitchen should function seamlessly while having lots of visual appeal. A good floor plan, proper lighting, and workable surfaces, cabinets and appliances tied into a functional, attractive space will guarantee you a masterful result that your family will enjoy for many years.
The modern kitchen has become such a part of daily activity that designers often look for ways to balance practicality with comfort and fun. By incorporating innovative ideas like sophisticated colors, cabinets that mimic furniture, and attractive flooring and artwork, a kitchen can blend into the rest of the home so it serves as both a culinary work space and a room to properly welcome family and guests. To create your own masterpiece, shoot for a balance that is efficient, beautiful and comfortable, yet heavy duty enough to handle tasks like dinner for 12. Here are a few ideas to get you started.
Start with a plan. Home building websites and magazines are great for ideas, but essentially you have to begin kitchen planning by thinking about your own specific needs. If you entertain, is it usually for four or 24? Do you enjoy gourmet cooking or do you stick to the basics? Do you cook often or bring home takeout? The appliances you choose will be based on the amount of cooking and cleaning you do. Seating will be determined by the size of your family and how often you entertain guests. Finishing touches like lighting, tile and flooring are a matter of personal taste, but surfaces choices often depend on what will go on them. Plan your space wisely based on how you intend to use it.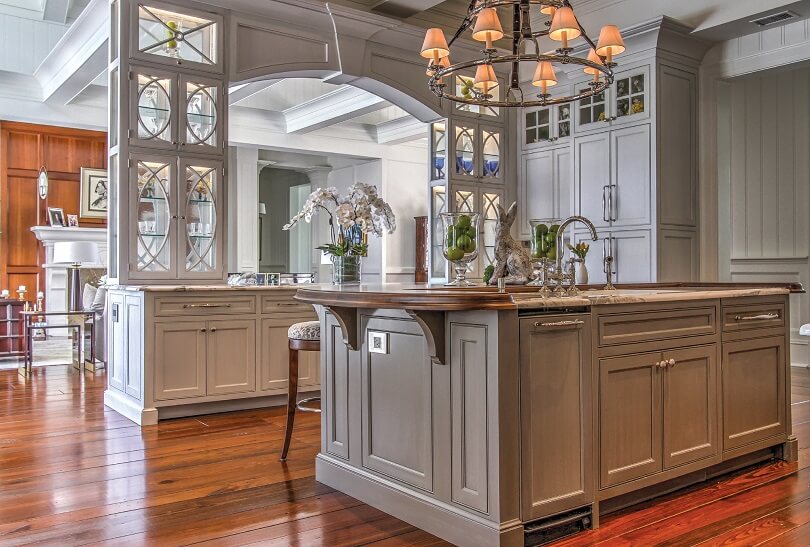 Layout. The 1950s introduced us to the popular "work triangle" kitchen design of closely connecting the refrigerator, sink and oven to create an efficient work flow. Today, the work triangle, while still a great starting point for design, is being challenged by other options. As homeowners redefine this space for more than just cooking, ideas like large kitchens with multiple work zones come into play. In a small space, a one wall, or galley kitchen aims at having traffic flow uninterrupted down one straight access between counters and a serving island. Butler's pantries and "back rooms" are also becoming more popular. They create additional work areas that are hidden behind the scenes so the main kitchen can stay reasonably neat and tidy for guests.
Lighting. No matter how beautiful and efficient a kitchen is, poor lighting can make it unbearable to work in. You need an overall well-lit room with brighter lights for specific task areas. For this reason, it's best to use several different sources. In the long run multiple light sources will be more efficient because lighting can be selected for whatever task is at hand. Layered lighting also offers more options when providing ambience for different occasions. Task lighting on dimmers, pendants, overhead cans, and under-cabinet lights can all be combined to create a nice, bright or warm, cozy space.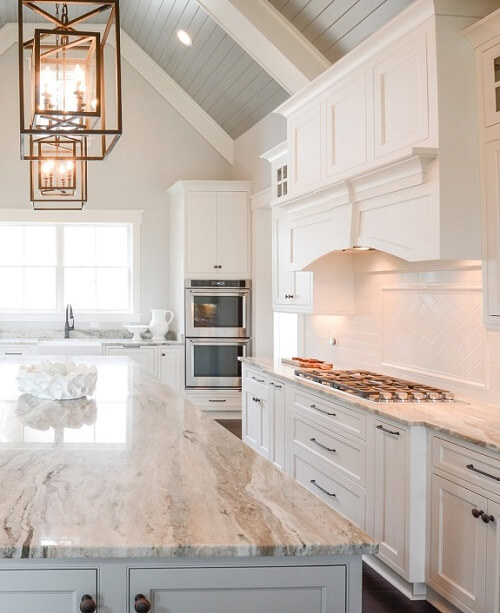 Creative cabinets and counters. After deciding on a layout, most kitchen designs start with a discussion about counters and cabinets–the two most important elements that work to make your kitchen beautiful and functional. There are two options to consider with cabinets: fitted or unfitted. A fitted kitchen consists of rows of matching upper and lower cabinets with appliances incorporated into them. Unfitted kitchens usually have a mix of styles and colors with more furniture-like features. With this style, open shelves may take the place of upper cabinets altogether. To add some personal taste to a room, don't be afraid to mix different, yet complimentary materials.
Countertops come in a variety of materials from stainless steel, wood and concrete to engineered stones and the ever popular granite. Because they take a beating in the kitchen, choose counters that are durable and water resistant. Beyond that let personal taste be your guide.
Flooring. A floor ties a kitchen into the rest of the home, so appearance is a factor. But ultimately what matters most in the kitchen is installing a floor that is comfortable to stand on, water and slip resistant, durable and easy to clean. There are many flooring options available on the market that can meet these requirements. Vinyl, wood, stone, ceramic tile, and laminate are all standard options that come in a variety of patterns and colors. Many homeowners are also experimenting with cork, bamboo and luxury vinyl as a softer option that's great for kids who frequently drop the dinner dishes.
Appliances. In the past, appliances basically consisted of dishwasher, stove, and refrigerator. In the modern kitchen, one is likely to find an array of other helpful products like cooktops, combination ovens, convection microwaves, wine coolers, warming drawers, coffee bars with built-in espresso machines and much more. Appliances range from simple to over-the-top in their functions, so figure out exactly what you need and will use, and go from there.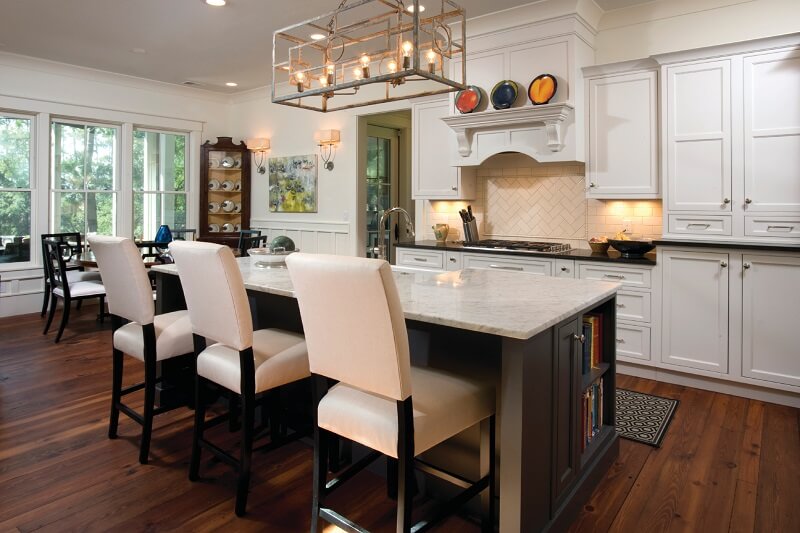 Backsplash. A nice backsplash can easily become the centerpiece of any kitchen. A typical backsplash will run from the counter surface to the bottom of the upper cabinets or windows. Behind the range it can rise even further to make cleaning up grease and food splatters easier, hence the name backsplash. With a wide range of possibilities in material selection, installing a practical backsplash is a perfect opportunity to get creative with design ideas. Ceramic tile has long been the popular choice for a backsplash, but well-sealed wood, stainless steel, glass tile, mosaics and now stone are becoming more common.
Finishing Touches. Adding the final touches to your kitchen is all about expressing your own personal style. From window and wall treatments to drawer pulls and seat cushions, small decorative touches can make your kitchen truly inviting and enjoyable.