With approximately 45% of your home's energy usage coming from conditioning the indoor air, knowing where, why and how to minimize that usage is key to creating real comfort, good indoor air quality, and long-term energy savings. Below is a list that defines 5 steps to a comfortable and high performing home.
ONE: Start with a good building envelope. This is not the envelope you lick, but serves the same purpose by holding something important inside that is supposed to stay inside, that precious conditioned air. The building envelope is your building's shell, which is made up of insulation (the pink stuff, the blue stuff, the white stuff, the foam stuff, etc.) and an air barrier that protects that insulation. Other than spray foam, all other insulation products require an air barrier to prevent air from passing through the insulation and degrading its performance. If air blows inside your coat, it doesn't work. If air passes through your fiberglass, that fiberglass becomes just a filter! Sealing the cracks and penetrations around your insulation and creating this tight, well-insulated "envelope" should be step number one. Start in your attic, then to your crawlspace, and then around those windows and doors! These will have the biggest gains and improve your home's defense. Having your home pressure tested with a blower door can tell you how your home stacks up and where to focus your resources best.
TWO: Once you have a well-sealed building, the next step is ensuring your ducts deliver the proper amount of air to and from the needed spaces, which is a key to comfort and indoor air quality. Ducts in the attic here in Beaufort County should be uber-insulated and super sealed, and if possible moved into the conditioned space! Sealing the ducts is a tedious and time-consuming job, but when done right pays dividends for years to come. We recommend sealing the ducts and duct insulation with mastic and never with duct tape. Then having them tested for air tightness. This will ensure the conditioned air gets to where it's needed without waste and stress.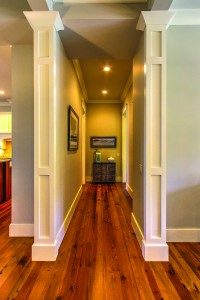 THREE: Next is to ensure your HVAC is properly sized. We are often forced to upgrade our system when it finally breaks having to disregard steps 1 and 2. What this means is you give up the chance to improve your home's comfort and energy usage significantly for the long-term. To prevent this situation, find out how you minimize your sizing and plan for this occasion. A home energy assessment (energy audit) on existing homes and a good energy model and load calculation on a new home will show you where to invest. Avoid guessing, rule-of-thumb sizing, and the "I have been doing this for 30 years" resistance to completing a proper load calculation. Not only is this code, but is a key to home performance.
FOUR: Once you have a good envelope, good ductwork and a right-sized HVAC system installed, then you just have to test and balance the airflow of the system. Not having the right amount of airflow to and from each room can create those room-by-room comfort issues similar to those "cracks" and "drafts" in your home's shell.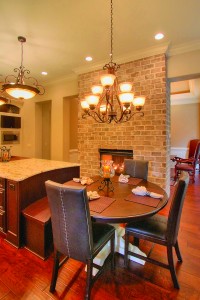 FIVE: Maybe the most important addition that should be implemented once you have sealed your home is fresh air ventilation. As we are building home's tighter, there are some health and safety items that should not be overlooked. This means ensuring your combustion equipment (gas water heater, fireplace, furnace, etc.) has enough air to operate properly. This also means introducing fresh air into the home for the occupants. This is not done haphazardly and must be completed with care. Shy away from those that suggest you don't need fresh air. If you live in a spray foamed home currently, chances are you need this already.
Following these steps will give you the best chance at permanently improving your home's comfort and energy efficiency. The cheapest renewable energy to produce is the energy that is not used….therefore, reduce before you produce and think efficiency first!
What is an Energy Assessment?
Energy assessments (or energy audits) give homeowners information regarding their existing building's health and overall performance. Using diagnostic tools, like the blower door and thermal imaging cameras, along with energy modeling software, the baseline energy loss of an existing home is taken. This enables a homeowner to determine what is the most cost effective and energy efficient strategy to follow, in addition to what will aid most to increase the comfort of the home. The energy assessment is a non-product specific, non-biased approach that looks at your house as a whole system which helps ensure you are not throwing good money after bad.