HOMEOWNERS ARE DESIGNING BATHROOMS AS MINI RETREATS THAT PROVIDE COMFORT FROM THE DAY'S STRESSES. IF YOU NEED A PLACE TO RELAX, HERE ARE SOME TIPS THAT WILL HELP YOU GET STARTED.
In modern times, the bathroom has advanced beyond mere functionality to become a sanctuary of tranquility. It is no longer just a place to house a sink, toilet and shower. The bathroom has become a stylish room of relaxation with amenities that inspire renewal and rejuvenation. It is where we escape for comfort at the end of a hectic day and where great ideas are born in endless showers. When it comes to designing or remodeling a bathroom, it's important to get it right from the start with a well-planned vision that embraces comfort and personal style. We've compiled a list of ideas to help get your dream bathroom started in the right direction.
Know Your Budget Money does matter. Before starting any project or build, make sure you have your budget in check and you have clearly communicated to your builder what your desires are. The more detailed the planning, the closer you'll stay to your actual budget. If remodeling, you will have decisions about what level your construction plan will be–light, surface remodeling or whole deluxe bathroom makeover? Do you need new plumbing or just new fixtures? Will you have to re-tile or just repaint? All of these questions should be asked before you start so you can take the worry out of your wallet.
Light, Color & Sound People often underestimate the importance of good lighting and soothing color in a bathroom. If you are creating the ultimate sanctuary, then it should have the proper ambiance. Like other areas of a home, the bathroom needs task, decorative and ambient lighting for total overall appeal. With color, its best to use neutral hues to create a harmonious sense of peace and relaxation. You may like bright colors–and they will certainly get you going in the morning–but the goal with a spa bath is to wind down. If you can incorporate sound into your bathroom via a wireless system, you'll have the perfect combination, and you just might find yourself spending the weekend here.
Pretty Vanity A vanity can set the tone for the entire bathroom design so choose materials and size wisely. A vanity that's too large will cause problems with the traffic flow of your bathroom. One that's too small will leave you needing more storage and counter space. And picking the wrong materials could leave you with a future maintenance issue. Go for a look you will love, but make sure it meets all of your practical needs as well.
20 Newest Home Trends For 2018
CLICK HERE To Download Your 24 Page Home Guide FREE
Plus a FREE Bonus Gift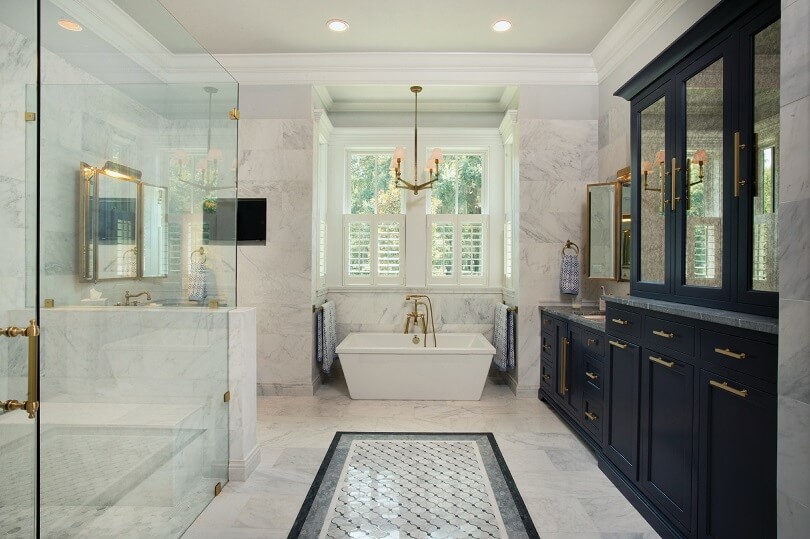 Statement Tile Unique floor and wall tiles have been increasing in popularity for the past few years. Tile provides a great design opportunity when working with challenging bathrooms and small spaces. Look for bold shapes like large hexagons, bricks and triangles in a variety of colors that can be combined to make striking patterns. In 2017, expect to see three-dimensional tile for added texture in bathrooms.
Soak in the tub Although rain showers are still quite popular, many homeowners prefer a soaking tub for their evening unwind. These freestanding additions to the bathroom are visually appealing and transform the bathroom into a luxury getaway. They are becoming so popular, designers are seeing a decline in standard tubs with shower-surrounds. Soaking tubs come in a variety of shapes and sizes to accommodate many body types and bathrooms spaces.
Move it off the floor Clean and clutter-free is the way to go for a bathroom that is relaxing and not overwhelming. Custom designed floating sinks, clawfoot tubs, toilets without a traditional base, and freestanding vanities are a few design trends that visually lighten a small space making everything seem more open and airy.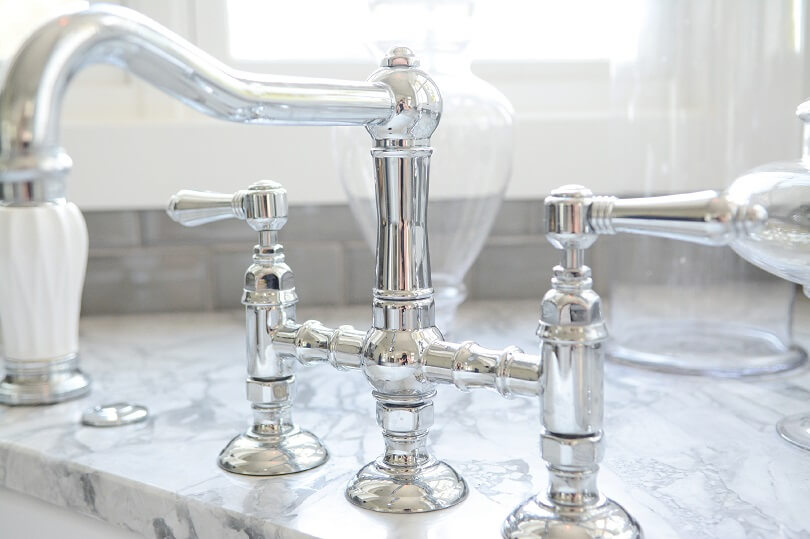 Material matters Because of its smaller size, you can make a big impact with less money in the bathroom. Try experimenting with creative materials like warm brick for a instantly urban feel; an onyx trough sink with matching shower wall for a natural, serene look; or sliding barn doors that make entry into the bathroom a focal point. Experimenting with mirrors, light fixtures and even cabinet styles can really make the room an extension of the owner's personality.
---
To create a bathroom you will truly enjoy, choose materials, colors and textures that are comforting. CLOCKWISE FROM TOP RIGHT A soaking tub immediately sets your mind to unwind and relax mode while a well-placed window allows natural light to flood the room for a spa-like ambience. Streamline your bathroom with counters that "float" above the floor. Tile patterns and colors that mimic nature will bring out your inner harmony.
Explore using different materials and finishes. Cabinets that are designed to mimic pieces of furniture help set the design tone of a bathroom. New shower trends replace tile borders with creative mosaics. Windows offer a welcome focal point, not to mention letting in a beautiful, peaceful view. Fixtures can make a strong statement about your personality.
---
Let in some light A beautiful, well-placed window can enhance a bathroom especially if it offers a great view. Windows with cut glass, sea glass, and frosted surfaces allow light to softly pierce the room while still providing privacy. Windows placed at higher levels, like skylights and casement windows flood a room with light from above without the necessity for window coverings.
And finally…the Toilet Many people choose to spend dollars on design features in their bathroom, and skimp on the one practical thing you'll be spending lots of time on. The toilet should be well built, comfortable and efficient. Models with elongated seats and bowls are usually the most comfortable. Toilets also come in a variety of heights to accommodate their owners, so its a good idea to visit a showroom to check the fit. Most modern toilets are water efficient, but dual-flush technology can take this efficiency to a higher level. Over the life of a dual-flush toilet, a family of four can save over $2,100.